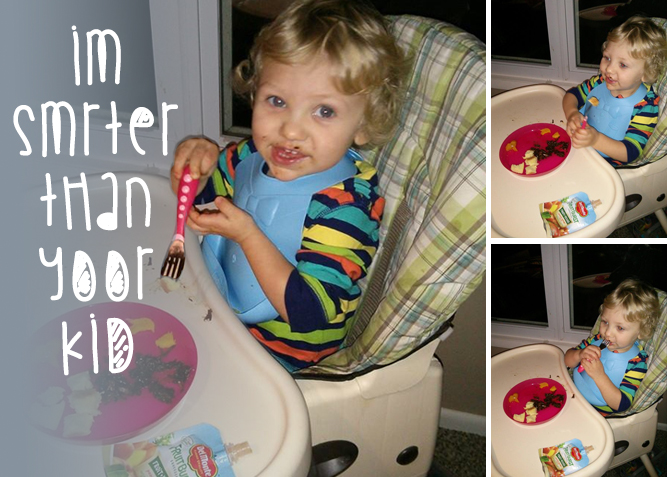 I loathe parents who brag about how smart their babies are. Is your child Einstein or da Vinci? I didn't think so.
That being said…
Now that I have a baby to raise, (as opposed to the adoptees we got at 5 & 3), I'm constantly amazed at his abilities. I find myself bragging about him, while trying to temper it with, "But he still poops in his own pants." I can often be found behind closed (bathroom) doors Googling, "When does a baby start to __________?"
I've discovered he's not so special after all. When it comes to baby milestones, the average age at when a baby usually masters said milestone is about as wide as the cable repair man's appointment window. Here's an example of what I mean:
Question: When does a toddler start using a fork?
Using a fork and spoon: Some toddlers start wanting to use utensils as early as 13 months, and most children have figured out this all-important skill by 17 or 18 months. By age 4, your child will probably be able to hold utensils like an adult and be ready to learn table manners. Until then, be prepared to help out.

OllieMac is 16 months old. He used a fork rather convincingly last night. When it came to chunks of potato rolls, he speared them like a skinny Tom Hanks fishing for food on that island of misfit volleyballs. But other food stuffs were elusive, to put it mildly. There's lots of things he does well, most of which revolve around food, which is to say he's definitely a genetic decedent of yours truly. Not only does he use sign language to request more grub, but also roars "MOOOAAAR", as if to bang the point home.
Why we ever bought this child toys, I'll never know. I trained him how to sign the word 'please' by using his favorite item in our humble abode: my $8 wedding ring. He could spend an hour tugging it away from me and then giggling as he places it on his stinky big toe. 'Accurate' would not be the word to describe his sign of 'please' though. Here is a comparison: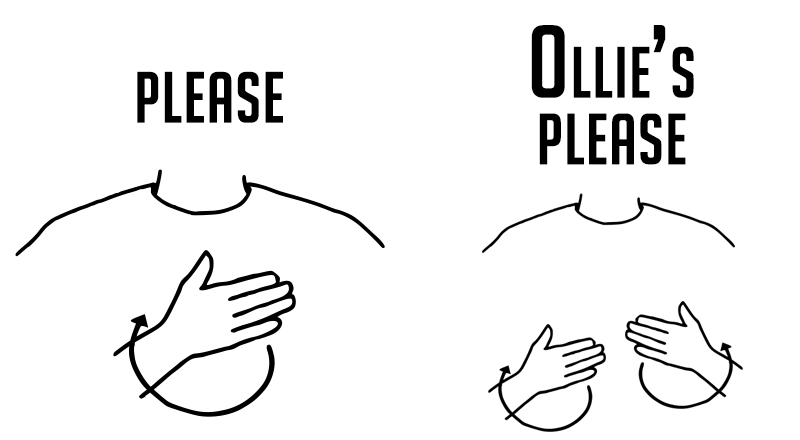 Depending on where he rubs his hands, his 'please' sign borders on inappropriately erotic or 'petting my pregnant baby bump,' neither of which are a great look for a one year old boy.
"My boy is a great student and a wonderful person, so I have no idea why he shot those three people, that dog, and a mime in the park today."

I've come to the conclusion that ALL parents think their babies are geniuses. You'd have to be a twisted soul not to. The parent that truly thinks their child is an idiot has no business raising him or her. Their duty as the parental unit is to to pick up on what the child is doing well, encourage them to go further, and correct the slack areas. Hopefully, this will help the little ankle biter to grow into a well-rounded adult. On the flip side, unabashed praise is also how we get the mom on the 6:00 news exclaiming, "My boy is a great student and a wonderful person, so I have no idea why he shot those three people, that dog, and a mime in the park today." Let's face it, you've probably been raising your boy whilst wearing rose-colored glasses.
And the mime had it coming.
I promise to dial back the praise of my lad, if you promise to recognize that at 16 months, my son does things your 8 year old still refuses to do. Such as:
putting his dirty dishes in a sink he can't reach (seriously, he has an awesome arm)
takes off his shoes and puts them where they go
hangs up his coat 5 out of 10 attempts
throws trash away when told
puts away his toys when told
bites the dog
Ok, so that last one may not be the most impressive, but I place it in the 'taming of beasts' category.
He may not be the smartest tyke around. He may fail every class and never come close to writing a new theorem on spacial dynamics (Is that a thing? I don't even know what I just said). But I will keep watching in awe of the human being he is transforming into. He was a surprise to his mother and I from the moment we found out he was coming and he's a wonderful surprise every day I get to know him more.
But he still poops in his pants.
Christian Lee
Christian has had many roles in life. He's been a minister's son, a poor student, a computer geek, a bible college drop out, a corporate suit, a traveling comedian, and a failure at much he's tried. But he counts 2 huge successes in his life. He is husband to a wonderful wife, and father of 2 exceptional kids… and a third that has yet to be determined. He draws a web comic about their life at ForeverFamilyComic.com. Having just missed Aaron in college by a few years, they connected online, finding they had a similar sense of humor [read: DARK] and decided to launch PlaidDadBlog.
---
Comments
comments