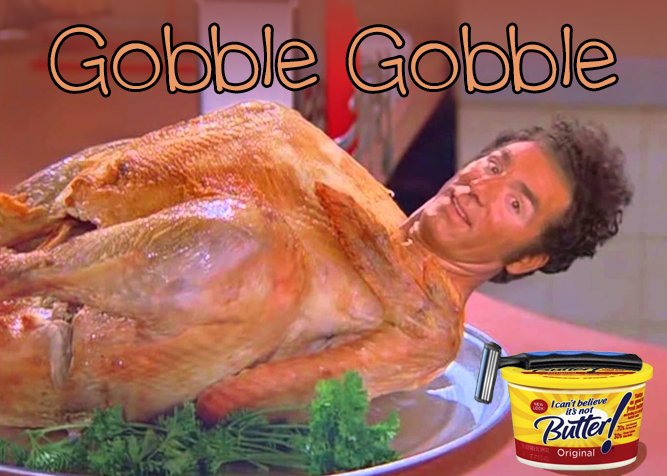 Week 7: Where We're At
Aaron: Thanksgiving–that government sanctioned day where we indulge our gluttony with people we can't stand so that we can get up before the sun with thousands of our greedy friends and fight over stuff we don't need all so we can have the hap hap happiest Christmas ever!  Wow, that was a bit caustic.  Let's try again…  TURKEY!!!
So here is our progress through week 7, in all its glory:
Week 7

| Christian | Aaron |
| --- | --- |
| Original Weight: 260 | Original Weight: 268.8 |
| Current Weight: 256 | Current Weight: 269.8 |
| Total Loss: 4 | Total Loss: +1 (I'm pretty sure my scale is lying to me) |
| Win of the week: I successfully stayed away from buffets for another week. | Win of the week: My scale made me feel better, even though it sold its soul to the devil to do so. |
| Fail of the week: It's Thanksgiving and I have 4 days of catching up to do. | Fail of the week: A horrendously busy week prevented me from getting to the gym, and I psyched myself out of running due to the cold. |
| Mood/Thoughts: Thankful… until Monday. Then the deep seed of regret and shame blooms into a full flower of self hatred. HAPPY HOLIDAYS EVERYONE!! | Mood/Thoughts: Thanksgiving is almost here.  I forsee a day spent hiking the mashed potato mountains, kayaking down the Gravy River to the wide open plains of turkey.  And the Bears will (hopefully) beat the Lions. |
Skinny Meal of the Week: 
Light Thanksgiving dish- Slow Cooker Garlic Sweet Potato Mash
Ingredients
2 lbs (4 medium) sweet potatoes, peeled & cubed into 1-inch pieces
1 tbsp butter
3 cloves garlic, crushed
1/2 cup 1% milk
2 tbsp light sour cream
salt and fresh cracked ground pepper, to taste
Preparation
Place the sweet potatoes in the slow cooker and add just enough water to cover them. Add salt to the water, then cover and set the slow cooker to 4 hours on LOW.
Just before the potatoes are ready, melt the butter in a small saute pan and sauté garlic until lightly golden. Drain the potatoes in a colander and return them to the slow cooker. Pour the garlic butter over them, add milk and sour cream and mash until smooth and creamy. Adjust salt and pepper to taste and keep the slow cooker set to warm until ready to eat or up to 2 hours.
Note: This recipe originally ran on skinnytaste.com
Comments
comments