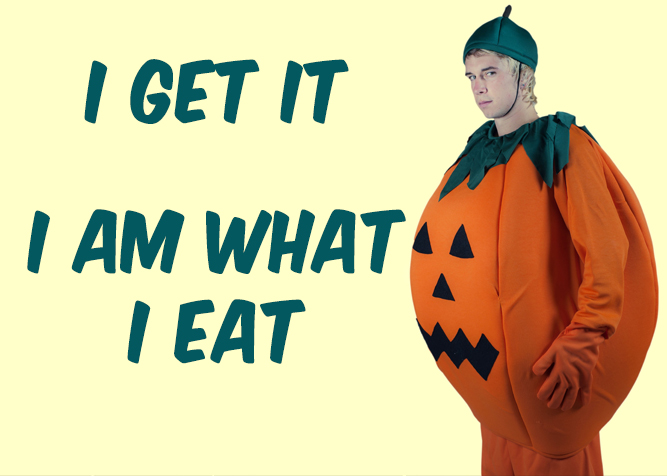 Week 5: Where We're At
Christian: Just call me Pumpkin. I eat it. I watch it. I'm shaped like it. I. AM. THE. GREAT. PUMPKIN.
Aaron: I call this week "Success Through Failure." Somehow, I lost weight through not running, only one trip to the gym, and falling of the Eat Less Chuckwagon. Maybe I'm onto something (probably not).
So here is our progress through week five, in all its glory:
Week 5
Christian
Aaron
Original Weight: 260
Original Weight: 268.8
Current Weight: 260
Current Weight: 270.8
Total Loss: 0
Total Loss: +2.0 (I dropped 1.4 lbs this week, all while hung over from Halloween).
Win of the week: The only win I could possibly think of, is that I didn't go OVER my original weight. But there's always next week, eh?
Win of the week: I worked a post-Halloween miracle.
Fail of the week: I'm a sucker for the McRib, OK? And now that you can add one to your combo for $1? Well, that is just temptation I cannot resist. There will never be a time I do NOT want a McRib when available. Oh, and Pumpkin pie. Specifically, Costco pumpkin pie (don't even try to argue with me on this – it reigns supreme). Between these two food items, I've had a week worth of FAILtoberfest.
Fail of the week: I didn't get to run, but now I'm back at it as the sinuses have calmed down. Only one gym trip. Partook in some rare emotional eating.
Mood/Thoughts: I'm a fatty, fatty, fat fat.

That is all.

Mood/Thoughts: If I could just get everything clicking the same week, I'd be Richard Simmons.
Skinny Meal of the Week: 
Skinny Artichoke & Spinach Penne Casserole
Ingredients
4 cups cooked whole wheat penne (cook to al dente)
6 cups (loosely packed) baby spinach
1 tablespoon olive oil
1 (24 ounce) jar marinara, no sugar added
1 (14.5 ounce) can artichoke hearts, drained and cut in half
1 cup fat-free cottage cheese
1 cup part-skim, shredded mozzarella
1 cup ricotta, low-fat
1 egg white
1 teaspoon dried oregano
1/2 teaspoon freshly ground black pepper
1/2 teaspoon crushed red pepper flakes
Kosher or sea salt to taste
1/4 cup parmesan
Read more at http://skinnyms.com/skinny-artichoke-spinach-penne-casserole/#PkRBgmcwoMoijPSV.99
Preparation
Directions
Preheat oven to 375 degrees.
Chop or tear spinach leaves into small pieces. Add olive oil to a large skillet, heat to medium-low, add spinach and cook just until wilted, about 3-4 minutes.
In a large mixing bowl, combine cooked penne, marinara, wilted spinach and artichokes, toss to combine.
In another large mixing bowl, combine cheeses, egg white, oregano, black pepper, red pepper flakes and salt.
In a 9″ x 13″ casserole dish, add 1/2 of penne mixture, top with 1/2 of cheese mixture and continue layering until all ingredients have been used. The cheese mixture should go on last. Sprinkle parmesan over pasta and additional freshly ground black pepper if desired. Bake until hot and bubbly, about 30 minutes.
Note: This recipe originally ran on skinnyms.com
Comments
comments