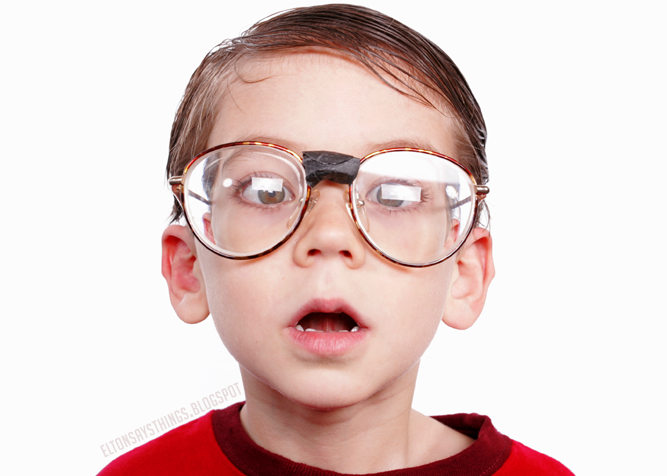 Let's face it. Boobs exist.
Guys love 'em. We even come up with fun ways to spell them. b00bs. Bewbs. bOObs. 60065 on the calculator in 4th grade.
60065 on the calculator –  I'll wait while you try it.

There's been a lot of time put into boobs on this globe. I shudder to think how many diseases we could have cured with the money spent on silicone, then saline, and then back to silicone implants. Just the cost of the cocaine (true story) it took to fuel the imagination of the two male (need it be said?) inventors of the breast implant, would have rivaled the budget of finding vaccines for polio, measles, and mumps combined.
So why am I introducing my son so early to the Land of the Mammary Gland? So he can get over it.
Seriously, get over it. My Facebook page is constantly blowing up about boobs in public. Be they nude beaches, moms feeding babies at restaurants, or ladies going for a jog sans top. Don't get me wrong, I get where you're coming from. We, as a society, have said boy boobs are useless and OK to show, while girl boobs are for milking and motor-boating, and therefore must be covered up. The decision has already been made. End of discussion.
But it wasn't written in stone, was it? People are changing the rules all the time. I don't always agree with it. Personally, I prefer a bit of modesty out in public. Just because you say something is OK, does not make it OK. Just because you change the moral standard does not mean I have to agree. But we shouldn't be having an aneurysm every time something in society doesn't go the way we think it should. And Christians are the worst. We somehow think that someone who does not subscribe to our rule book must follow along with us, and when they take a detour, we publicly shame and rebuke them.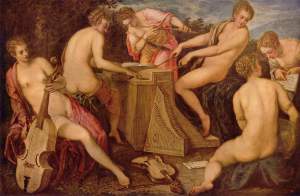 We also seem to have short memories. This is part of the painting located on the ceiling of the Sistine Chapel. The human form has been depicted by artists since the dawn of man. Cave paintings, while crude, have some blatantly naked stick figures on the wall. I guess they were skinny from chasing down that protein and not yet knowing how to bake carb laden bread.
"Put dead animal skin on that woman," yelled the first art critic.
Followed by the first dead art critic.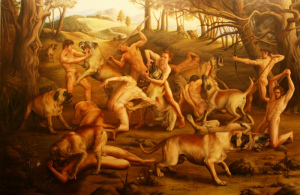 To be fair, it's worth noting there were quite a few depictions of nude dudes in the Renaissance as well. Sculptors also got in on the game, although it's a shame the model for the world's most famous statue, 'David', had just gotten out of the pool before posing. If we could only zap George Costanza back in time, to warn Michaelangelo, maybe he'd allow his model to towel off first. We might also give him a glimpse of a future where he's less known for his artistic abilities, and more-so his skills at eating pizza, while delivering a roundhouse kick and a "Cowabunga dude!" to his mutant turtle brethren.
My son is an artist, and to shield him from the world of people pillows, would deny him access to some of the greatest artistic minds to walk this earth. This weekend, we'll be strolling through the National Gallery of Art, viewing epic works, by the Masters: Ruebens, Titian, VanGogh, van Eyck, da Vinci, and more. When he asks about drawing proper human form, I'll hand him a book like, 'Figure Drawing For All It's Worth'.
Hopefully it will demystify the female form. When his classmates are giggling over a crude caveman-style drawing of lady parts, he can sit back and think, "N00bs. So impressed with B00bs."
And maybe when he's older, he won't sneak around on the computer. Constantly searching for pictures of naked women. Diving down deeper and deeper into more twisted versions of 'art', until he discovers what he's viewing has no artistic merit at all. It's just a tool to corrupt him. Corrupt his thoughts about a women's body and his own. Encouraging him to view the opposite sex as an amusement ride, and not a soul mate.
Many of you reading this know exactly what I mean, because you've been there. Even visit on occasion. Maybe I can keep him off the path I so frequently wonder back to.
Remember, it wasn't until they got too big for their britches, that Adam and Eve desired… well… britches. In her quest for God-like knowledge, what Eve earned was a big ole dose of shame. Generations later that bra strap is rubbing ladies wrong, while us guys are just wanting to open the package and see what's inside. If we lived in paradise, my son and I would never have a conversation about b00bs, because they'd always be out there to see and respectfully appreciate. That's not the world we ended up with, however.
So tomorrow, I'll have my arm around my lads shoulder, likely shaking from laughter at the titillating sights. We'll share a chuckle and move on. After all, there's bigger hills to climb. Mountains to scale. Mounds to…
I told you at the beginning: We love coming up with fun ways to talk about b00bs.
Christian Lee
Christian has had many roles in life. He's been a minister's son, a poor student, a computer geek, a bible college drop out, a corporate suit, a traveling comedian, and a failure at much he's tried. But he counts 2 huge successes in his life. He is husband to a wonderful wife, and father of 2 exceptional kids… and a third that has yet to be determined. He draws a web comic about their life at ForeverFamilyComic.com. Having just missed Aaron in college by a few years, they connected online, finding they had a similar sense of humor [read: DARK] and decided to launch PlaidDadBlog.
---
Comments
comments