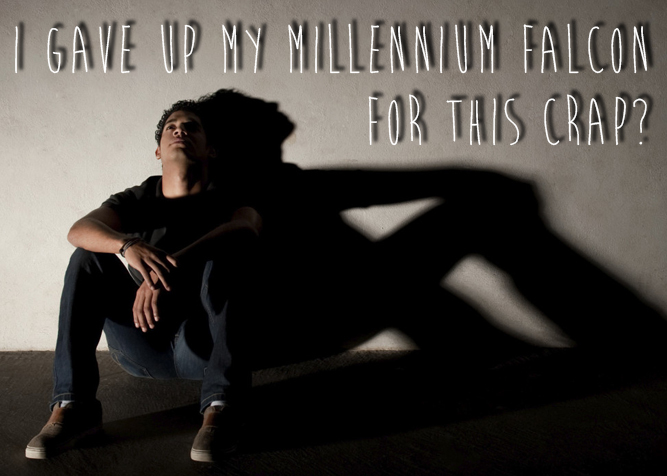 Disappointment may be too soft of a word. Heartbreak may better describe the feeling your children will give you in return for planning that perfect day of days.
So you've been waiting for this day for what's possibly years. Ever since your son or daughter was born (or in my case adopted) you've been planning the perfect trip. Maybe it's that $2,000 trip to Disney Land. Or a roadtrip to every ballpark in the state. Maybe it's an epic camping excursion that will solidify that father son/daughter bond. You just KNOW this is going to be the memory they cling to while you're lying on your death bed and they say, "Papa… remember that perfect day?"
Yeah. Keep planning. Keep living in the dream world, because once you breathe life into that moment, it's crashing down like your first house of cards.
Here's the likely real-world scenarios that go with those trips:
Disney World: It's 107 degrees. You spend an hour in line for every ride. Your kid is screaming for you to buy them a $50 hat that has Mickey Mouse ears on it. You're wallet is already as dry as your parched throat, and they don't seem to understand that you spent three years saving for a trip they'll forget while playing their DS on the 12 hour trip home.
Ballpark Tour: Your team loses at every stadium you follow them to. The hot dogs cost nearly half what you paid for the overpriced tickets. The kid sleeps through the second half of each game and asks why you can't just play the game on the Xbox in the air-conditioned comfort of your own home. You catch a fly ball with your head and poop your pants while unconscious. It's the solitary moment that lives on in their memory.
Camping Trip: There are no bathrooms. You knew there were no bathrooms. You thought it would be a great bonding moment with nature. Instead, your child spent the entire trip crying and when they performed the dirty deed, you had to hold their hands in a squatting position, making eye contact with them the whole time as nature ran it's course.
Maybe you plan a trip with your young one because they've done exceptionally well recently, and you want to reward their behavior. Only you find out mid-trip they've been lying their little butt off and you just didn't catch it in time. Thus the "best weekend evah" implodes while you fume and go on a rampage of anger spewing vitriol, followed by solid bouts of guilt and remorse.
OK. That one hit a little close to home.

Either way, here's some more fun facts:
They won't play with your old Star Wars toys.
You like the Washington WhatAreWeCallingThem? They'll choose the Cowboys.
They'll break your Star Wars toys.
They want you to play ball with them… until you correct their form (which you will – and which they will hate.)
They already know Darth Vader is Luke's father (it was on a t-shirt at the baby Gap.)
That place that you always loved as a kid is closed. Or a XXX book store. Or worse, a Starbucks.
SHUT UP ABOUT STAR WARS ALREADY! I LIKE JAR-JAR!!!
The moral of this post?  Stop trying to plan that moment you think will be the crystalline singularity of happiness. Truly, for them the disappointment is small. Just a lame attempt by ole' Pops to have a good time. The heartbreak happens to you. You've spent so long envisioning this occasion that you've built it up to be something it cannot, and never will, be. Sure, plan a trip. Plan that vacation. But stop attaching an outlandish outcome to it, because it won't be the one you're looking for. Maybe by living in the moment, you'll stumble upon that true instance of happiness that inspires your children to do the same for theirs.
Christian Lee
Christian has had many roles in life. He's been a minister's son, a poor student, a computer geek, a bible college drop out, a corporate suit, a traveling comedian, and a failure at much he's tried. But he counts 2 huge successes in his life. He is husband to a wonderful wife, and father of 2 exceptional kids… and a third that has yet to be determined. He draws a web comic about their life at ForeverFamilyComic.com. Having just missed Aaron in college by a few years, they connected online, finding they had a similar sense of humor [read: DARK] and decided to launch PlaidDadBlog.
---
Comments
comments