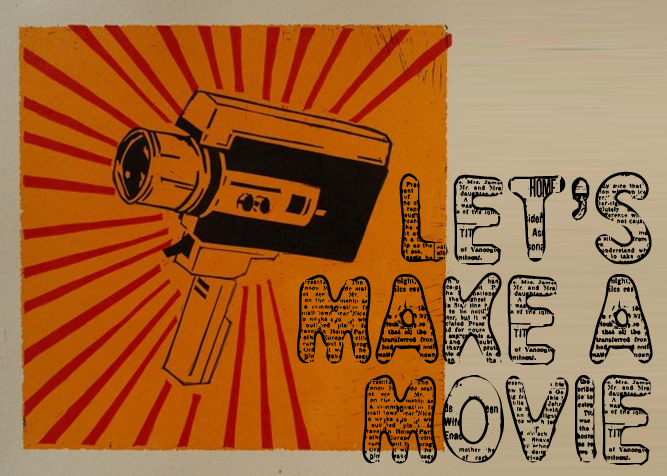 November is National Adoption Month, and while I recommend adopting healthier eating habits, adopting an attitude of gratefulness, and yes 'adopting' a pet… I really hope you consider adopting a CHILD.
Yeah. One of those filthy human complications that effect your life for years and years past the imaginary 'best used by' date of 18.
I've already explained why you should adopt a kid, so I won't rehash it here. [TLDR – Because it's your DUTY and you were COMMANDED to do so]
My son CJ and I are working on a short film to help celebrate the month and all it entails. We co-wrote the script and collaborated on the shots. What would look best. The general mood and tone. Whether it was too heavy or needed embellishment. All the things you expect two amateur film makers to do. Oh… and he's 8. Yep, he's eight years old and already has a vision and message he wants to share with the world.
Why is this? Part of the reason is encouragement. You can hop on this link and join the discussion about being a creative example for your kids. Are you sensing a theme? Here at PlaiddadBlog.com, we don't just talk about pie in the sky ideas, we try our best to live it. If we're telling you to adopt, you can be sure one of us has [the other is in the earliest stage of the journey, by the way].
We don't just talk about pie in the sky ideas, we try our best to live it.

We don't just tell you to
stop being unhealthy and recognize food is your idol
, we get off our rather large and impressive butts and do it ourselves. We don't encourage you to turn off the game and build something with your kid without earning a blood blistered thumb doing the same.
Frankly, Aaron and I are pretty tired tonight. He just threw a rather large Halloween bash at his place after fighting off hunger pangs and busting his butt in the gym for the first time in, what….? Ever? I just made the 6 hour round trip to join him, after pulling a similar food/gym routine, and lugging around 15 month old baby that views car rides over an hour as one step past water torture. On top of which we both have day jobs. Wives. Kids. Write and record videos for PlaidDadBlog. Oh, and di I mention my weekly web comic on adoption at ForeverFamilycomic.com? I didn't ask Aaron if he wanted to write an article for Monday because I was pretty sure the answer would be "Piss Off!"
OK. Those were my words, yet I sat down before the keyboard anyway.
"So what does this rambling have to do with ANYTHING, let alone adoption [which I thought was your original point]???"
You're right in asking, but a Plaid Dad understands. Our lives are patch work of events, people, successes, failures, grays, and bright colors. Plaid isn't what we wear, it's who we are. My life would be incomplete without all it's pieces, just as my shirt would be incomplete without its seam.
By choosing not to follow what we were commanded to do, we are not only living an incomplete life, we perpetuating that broken life for an unlucky – and unloved – child. Yes, you have commitments to your wife, your children, your job, your dreams. But they don't supersede your duty to pick up the unwanted and care for them. Love them. LEAD them.
I adopted CJ and his sister when he was five. If he was still in the system at eight, he would be considered high risk based solely on age.  He'd likely be separated from his sibling to give her the best chance at placement. Statistically, he'd be lumped in the category of kids most likely to age out of the system before finding a 'Forever Family'. Thank God I came to my senses, got off my butt and called Bethany Christian Services to inquire about adoption.
In his former foster home, CJ would sit in the corner of his foster brother's bedroom and watch him play video games. He wasn't allowed to join in, but was told to be quiet, keep still, and stay out of the way. was it any wonder he was introverted, timid, and unsure of himself when we met?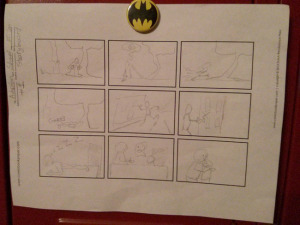 Contrast that to this week. We we're sitting at a table, discussing those old feelings of loneliness while rough sketching a storyboard [pictured] of how we'd shoot a movie to help other kids and family explore and deal with adoption. We were wading into very dark places, of which he only recently left behind, and still visits in his dreams.
Do you think he cares about what I have to do during the day? How I pay the bills? How tired I am after a 6 hour trip? How much effort goes into dropping a measly 1lb per week? No. All he cared about was telling me about the fun weekend he had with his Grandparents. Snuggling on the couch with me as we watched our football team trounce the competition. Tickling each other until we both screamed "UNCLE!!" Getting a kiss goodnight and told his Mother and I love him.
This is the job. It's not an easy life that Christians are called to. It's often stressful and the rewards are rarely seen till years down the road. But those children recognize their reward immediately. A Mom. A Dad. A FAMILY.
So every day this month, I ask you to pray about adopting. First on adopting the attitudes of Christ. An attitude of giving, of selflessness, of love, of grace. Pray for a wounded heart that recognizes there are hurting children out there that don't need someone – they need YOU. Pray for forgiveness in waiting for the 'right time' or 'the call' or 'the door to open' or 'finances to become available' or 'your life to slow down'. Pray for the strength to begin the process right now, then pick up the phone and call an adoption agency.
Bethany Christian Services is a great place to start. Not only will they answer all of your questions, they offer scholarships to help those unable to fulfill all of the costs associated with adoption.
If your not willing to adopt, do the next best thing and help the ones that are. Send a donation to Bethany or another service supporting adoptive parents. Help them fulfill their calling and you can at least sit back and know your money has gone to helping make a broken child whole while supporting the cause.
Christian Lee
Christian has had many roles in life. He's been a minister's son, a poor student, a computer geek, a bible college drop out, a corporate suit, a traveling comedian, and a failure at much he's tried. But he counts 2 huge successes in his life. He is husband to a wonderful wife, and father of 2 exceptional kids… and a third that has yet to be determined. He draws a web comic about their life at ForeverFamilyComic.com. Having just missed Aaron in college by a few years, they connected online, finding they had a similar sense of humor [read: DARK] and decided to launch PlaidDadBlog.
Comments
comments