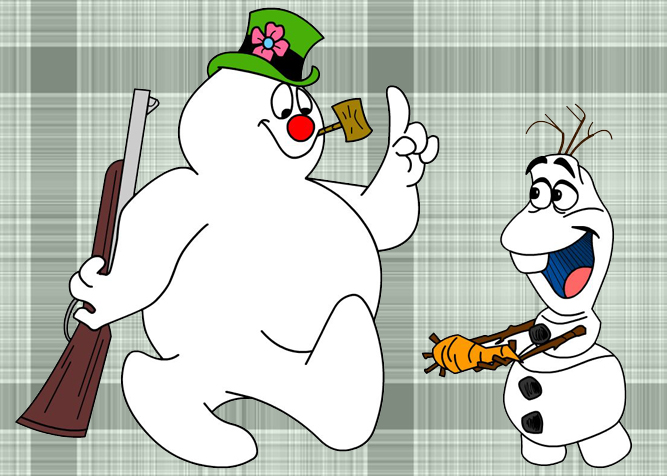 It's been a year since Disney's Frozen swept into theaters, dazzled millions with it's eye-boggling animation, and wowed audiences with its infectious soundtrack.  The cinematic juggernaut grossed over $1.27 billion worldwide, spawned hundreds of millions of dollars in product revenue, and inspired every pre-tween girl to squeal the lyrics to the hit song "Let It Go" at the top of their lungs.
Repeatedly.
Every day.
All day.
Everywhere.
For the love of all that is sacred, can we please just (wait for it) let it go?
Can we please put Frozen on ice?
My two youngest girls sing "Let It Go" constantly.  The youngest has talked incessantly about having a Frozen birthday party for months.  They have Frozen Barbies, Frozen dolls, and Frozen shirts.  If they sold Frozen jalapeño flavored popsicles, I'm positive they'd beg us to buy them.  At this point, I'd be ecstatic if they stopped watching Frozen and started watching Shrek again (and I loathe Shrek.)
No, I don't want to build a snowman.  No, I don't want to talk anymore about how creepy it was that the royal family kept the ice witch princess behind locked doors for years.  No, I don't think it's cute when a droopy diapered toddler blares out "Let It Go" on the beach while she stomps all over the sandcastle her dad built (thank goodness it was someone else's kid). If I hear Adele Dazeem screech the words to that dirge again, I may pop my own eardrums with a wood spoon.
Please, for the sake of the sanity of dads everywhere, can we please let Frozen go?
"As soon as you sell your Star Wars toys on eBay, stop wearing your Darth Vader t-shirts, and cease with the ridiculous Yoda (or whatever his name is) impressions at every meal," says every mom married to a plaid dad.
Touché.
Chewie, get us outta here!
Aaron Saufley
Aaron Saufley is a husband and dad who happens to moonlight as a hospice chaplain and preacher. He thinks Netflix is the greatest human invention next to pizza. He loves hanging out with his family, and when he has the time he also enjoys writing, a good cigar, craft root beer, smoking a mean rack of baby backs, movies, and trying not to die while running. Follow Aaron on twitter.

Comments
comments