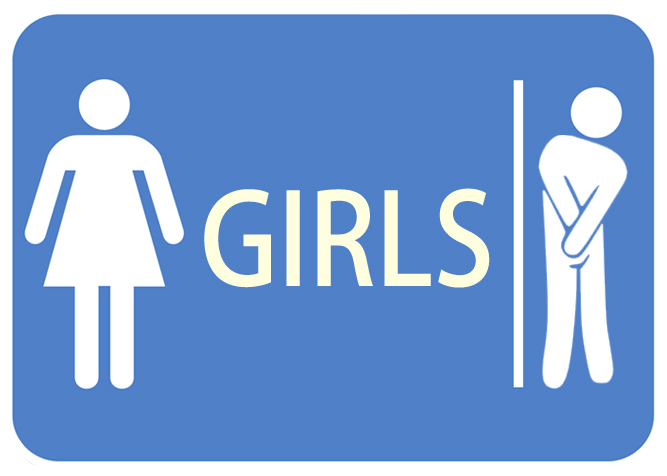 Every Sunday morning, my grandfather strolled to a limestone ledge rock overlooking the river on his farm. There, in the crisp mountain air, he'd gaze over the rapids, listen to the songbirds, and drop a deuce.
When my grandparents bought their Civil War era farmhouse in the early '40's, they restricted use of the indoor facilities to emergencies. That meant everyone in the Saufley clan–all seven of them–had to walk to the outhouse to do their business, regardless of the weather. I don't know why my grandfather decided to escape to the river rock on Sunday mornings. Maybe he enjoyed the quiet stillness under the cedar trees or the gentle rippling of the river.
I think he just wanted to (as my grandmother put it) "do a job" in peace.
I share one three-bathroom house with four females. Before we had kids, I couldn't figure out how to share two bathrooms with one wife. Now, with three daughters added to the mix, I don't think Stephen Hawking could figure out a solution to this conundrum.
It's hard to concentrate when you have a harem of naked Barbies staring at you.

I have, however, figured out that I must strategically plan my bathing, grooming, and (ahem) eliminating. My strategy? Do it all before the sun gets up. Even then, it's difficult to manscape and make a deposit at the Porcelain Bank when you're drowning in a sea of curling irons, hair brushes, body spray, and fifteen different flavors of shampoo. I think it's about time I had my own bathroom. We could opt for one of the
AHM bathrooms
as this would make it accessible for older relatives when they come to visit.
The real drama, however, happens when I have to drop the Cosby kids off at the pool while the wife and daughters are awake. On those occasions I must choose my bathroom wisely.
I rarely drop anchor in my daughters' bathroom. It's hard to concentrate when you have a harem of naked Barbies staring at you. That, and their bathroom doesn't have an exhaust fan. This bathroom is to be used only as a last resort.
If I use the downstairs bathroom, my girls' dad radar goes off. Soon, they're clawing at the door begging for food, whining that one of their sisters is trying to murder them (again), or complaining that they can't use this bathroom for the next decade because I've poisoned it. If I want peace while pottying, the downstairs water closet is rarely an option. They act as if my use of the toilet constitutes some sort of plumbing emergency. I can confirm my passing of fluids is not one of the common plumbing emergencies elsewhere. Unfortunately, my daughters haven't learned this.
That leaves the master bathroom, a Latin term roughly translated "wife's bathroom." I can safely poop between the hours of 2:00 – 4:00 AM on the two nights a week that she works. Any other time, I have to use my limited ninja skills to sneak in to our–I mean, her–bathroom. I usually fail. Eleven times out of ten, I hear her walk in the room, stop, and say something along the lines of, "Oh my gosh, what did you eat?!?"
And, goodness, to think of the spanner that is thrown into the works when one of our toilets break and we have to get one of our plumbers in!
Three bathrooms. Four ladies. One me.
Maybe I should find my own river rock.
Aaron Saufley
Aaron Saufley is a husband and dad who happens to moonlight as a hospice chaplain and preacher. He thinks Netflix is the greatest human invention next to pizza. He loves hanging out with his family, and when he has the time he also enjoys writing, a good cigar, craft root beer, smoking a mean rack of baby backs, movies, and trying not to die while running. Follow Aaron on twitter.
Comments
comments