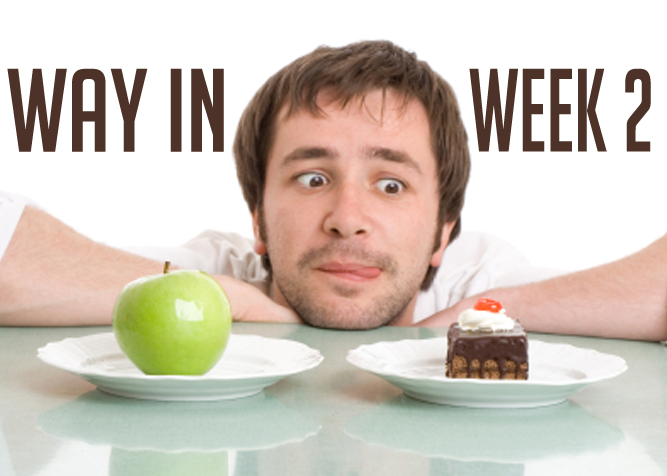 Week 2: Where We're At
We're two weeks into FATOBERFEST, and it's safe to say that Christian and I, well, REALLY HATE FATOBERFEST. We would rather just sit on the couch, watch cheesy horror films from the '80's until Halloween, then take our kids out begging for candy from complete strangers, and then collect the mandatory dad candy tax. But like the bumbling, chubby cavemen we are, we made a (foolish, stupid, brain dead) commitment on the internet to do this. So here is our progress through week two, in all its glory:
Week 2

| Christian | Aaron |
| --- | --- |
| Original Weight: 260 | Original Weight: 268.8 |
| Current Weight: 258 | Current Weight: 269.2 (Did I already mention I hate FATOBERFEST?) |
| Total Loss: 2 | Total Loss: +0.4 (I need to remind myself that Fatoberfest isn't about getting fatter) |
| Win of the week: Did I have one of these? No Gain I guess. | Win of the week: Only went to McDonalds once. I miss Tony the drive-thru guy. My love affair with raisin bran continues. |
| Fail of the week: One Word – Buffet | Fail of the week: I went to Chic-Fil-A. Soda consumption still too high. Was only able to run seven miles. My nephew had a birthday party. There was cake, mummy dogs, and swamp juice (a delightful blend of grape and orange Kool Aid, mixed with enough sugar to put the Stay Puff Marshmallow Man into a diabetic coma—I had at least four glasses of it). |
| Mood/Thoughts: Pretty ambivalent. I've cut down on a lot of 2nd's and snacking, but I'm still sucking down soda and sweet tea. I know what has to be done, yet…. | Mood/Thoughts: I'm trying to focus on one or two things at a time. Right now, that's cutting back on soda, cutting off McDonalds, and upping the running miles. Wait, that's three things. D@&$ you, FATOBERFEST! |
Skinny Meal of the Week: 
Chicken & Summer Vegetable Tostadas
Ingredients
1 lb Italian turkey sausage, removed from casing
1/2 cup chopped onions
3 cloves garlic, minced
1 red bell pepper, chopped in 1/2-inch pieces
1 green bell pepper, chopped in 1/2-inch pieces
1 1/3 cups crushed tomatoes (Tutorosso)
1/2 tsp dried rosemary
salt and fresh cracked pepper, to taste
For serving:
6 whole wheat 100 calorie potato rolls
6 slices reduced fat provolone (Sargento)
1 cup baby spinach
Preparation
In a medium non-stick skillet, cook the sausage over medium-high heat, breaking up as it cooks into small bits until cooked through, about 5-6 minutes. Add onions and garlic, and cook another 2 minutes. Transfer to the slow cooker and add the bell peppers, crushed tomatoes, rosemary and fresh cracked pepper.
Cover and cook on low 4 hours. Makes 3 1/2 cups.
To serve, place heaping 1/2 cup of meat on a roll and if desired, top with cheese and baby spinach.
Makes 6 servings.
Note: This recipe originally ran on skinnytaste.com
Comments
comments