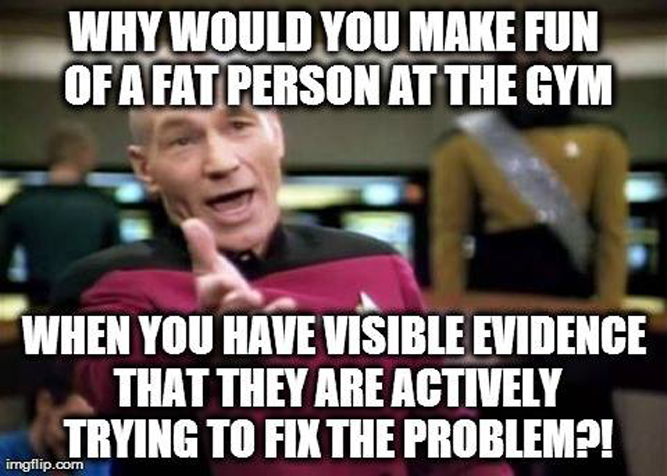 This was originally written on my tumblr page, BackTo200.
As a fat guy at the gym you will eventually get a skinny person that walks up to you and says some variation of the following: "You know what you need to do to lose weight? Here, let me tell you."
They then proceed to quote verbatim the 'in' workout of the month from Men's Fitness, what Jillian said last night on 'Biggest Loser', or EVERYTHING YOU'VE EVER HEARD ABOUT WEIGHT LOSS… EVERYWHERE.
Dude… I'm AT the gym. I'm working on it. Usually when I say I've lost 100lbs, they say "OH!" and leave me alone. But this is a shallow victory for me, because I know I gained a little less than half of that back by focusing for 2 years on other things. They try to slide away, looking for another tub they can educate, but I don't let them off the hook so easily. "Wait", I ask. "How much did you lose to get where you're at?"
This is when the dance begins, the Skinny Shuffle, because the number is usually less than their fingers. They've always been thin or semi-fit. They come her for tone and the Gym is where they rule. It's high school fatty, and the jocks are still there. If only this problem was contained to the gym, it would be more tolerable. It doesn't.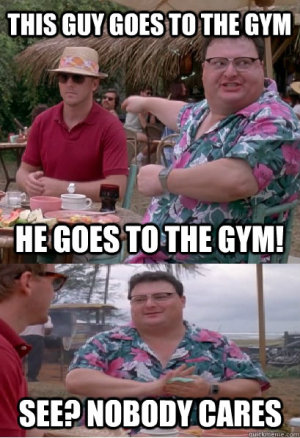 On the rare occasion we could line up our (his) schedules, I would work out with my friend, David. Dude has guns the size of my thighs and could bench press me, if not for a bad back. Yet he never gave me the "this is what you should do" spiel. He recognized that he's in great shape because he'd worked early to mold the form he was given. Hard work at a young age, paired with a good genetic code, and he doesn't have to kill it everyday to maintain. Granted, he complained about his weak nature when tempted by a plate of cookies (1st World Problems), the fact that if he dieted too much, people tell him he looks too skinny (Humble Brag), and his work out routine was picking up every weight from the 15s to 75s and curling them like they weighs no more than feather dusters… but dude didn't preach (ironic since he's a pastor).
He recognized I was putting in the effort. He'd also met my parents and knew that, while you CAN change your body, genetics still come into play.
My cousin, my uncle, and my granddad share 3 things in common. Genetics, alcohol, and what they see when they look in the mirror. You could change their surname to CommonCopies and no one would think twice. Seriously, they hit the zerox branch the whole way down the family tree. No really they… Ok. that's enough of those. I used to think the booze had zero to do with genetics. One of my butt cheeks is starting to slide on the fence now – based solely on them as a test group – but man, your genes dictate a lot about your body. I still think the bottle is easier to kick than the gut… one is IN your blood, the other IS your blood, but I only have the one issue, so I'm not an authority.
Don't mis-read what I'm saying. You CAN lose weight. You CAN change. But in the 2 years I lost those original 100lbs, my wife jogged beside me, lifted the SAME weights with me, ate the SAME foods I ate, and lost 10lbs. They found a growth on her thyroid, removed it, and not only did she lose almost as much doing nothing, but got pregnant to boot. Genetics and your chemical make-up matter. I don't know how much, but it matters.
Here's what I DO know. If you see Chunk lifting weights or trudging up a treadmill at an incline and there's not a tub of Haagen Daz in one hand, a cookie for a spoon in the other; just give him an approving nod. Or walk by and say, "Man, you're killin' it! Good job!" It will go a lot further than a regurgitated list of do's and don'ts.
(And by the way, some of you skinnies need to check with a trainer or read the instructions on that machine. Yeah, you look great… but you're doing it wrong. >Man, that DOES feel great to say)
Christian Lee
Christian has had many roles in life. He's been a minister's son, a poor student, a computer geek, a bible college drop out, a corporate suit, a traveling comedian, and a failure at much he's tried. But he counts 2 huge successes in his life. He is husband to a wonderful wife, and father of 2 exceptional kids… and a third that has yet to be determined. He draws a web comic about their life at ForeverFamilyComic.com. Having just missed Aaron in college by a few years, they connected online, finding they had a similar sense of humor [read: DARK] and decided to launch PlaidDadBlog.
Comments
comments