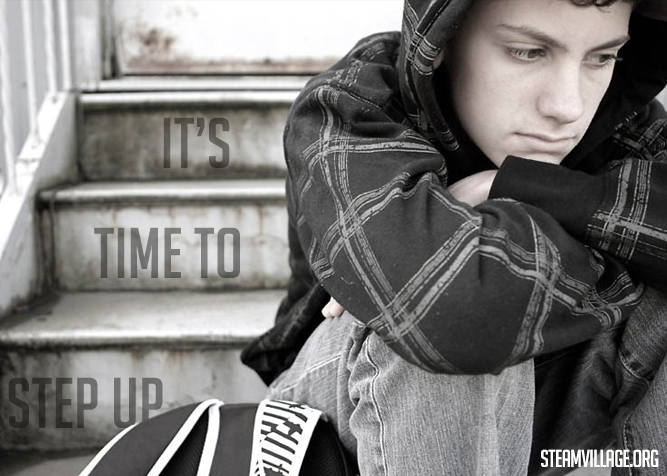 As I type this post, I'm sitting on the couch, watching a modern day gladiatorial fight in my living room.
My daughter Mia (6) is wearing a batting helmet.  She's started wearing this piece of protective head gear whenever she's comes into contact with her little brother Ollie (1). I'm watching Ollie stalk Mia with a plastic golf club, and if he can't land a blow to her skull, he will come after his older brother, the dog, or (if all else fails), ME.
So I trip her.
I'm not proud of this, but my nether regions can't take another whack from this kid. I went to a doctor (this really happened), fearing I had testicular cancer. Turns out, the family jewels had simply suffered too much blunt force trauma from a one-year-old kicking, standing, and slamming the fertile ground from which he was sown.
So my daughter takes one for the team. She knows what I did. She'll get a bag of hush-hush Doritos later and all will be right with the world.
This wasn't the plan. It wasn't supposed to be this way. I could see in her eyes she was thinking, "It was just supposed to be us. This wasn't the plan." She's right. But truth be told, my daughter wasn't in the original plan either.
I was completely happy being a D.I.N.K. for life–Dual Income No Kids. Sounds appealing, eh? I  managed to convince my child-craving wife that we were better off alone. Who needed to pay for a sure-to-be ungrateful kid's college education when we could visit Europe for a month? Or cruise the seven seas while gorging our faces off? Or just watching a football game with no interruptions? (read: napping on Sunday).
Here's the problem–that's not what we were put on this globe to do. And if you attach "follower of Christ" to your name, that's not why you're here either.
I meet a lot of Christians who say, "I'd love to adopt. If that's what God calls me to do, I'll do it. I'm waiting to hear from him. If I get the call, I'll answer it." Yeah. That's a lot of Americanized Christian mumbo-jumbo. The fact is, you got that call already. There's a 2,000 year old voice-mail that you've ignored or chosen to delete from memory.
James 1:27
Religion that is pure and unblemished in the sight of God the Father is this: to visit AND help AND care for the orphans and widows in their affliction and need

The most important word in that verse may be AND. It definitely doesn't say vist, OR help, OR care. No. It's a solid visit AND help AND care. This is our directive. This is how we are to showcase pure and true religion to the outside world. Imagine if every time someone derided Christianity, it was followed up by, "Yeah, but they sure do care for those orphans." Sadly, that can't be said. And it's because we have failed as body to follow a strict order. We've bought into the idea that the government can and should handle it. After all, we're paying taxes to support it, so it's like we're following James 1:27 after all.  Right?
Shame on us.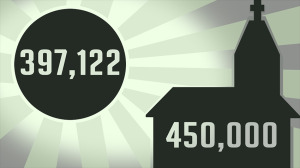 Here's some numbers for you. There are 397,122 children in the foster care system. And while the number is hard to pin down, there are an estimated 450,000 churches in the U.S. Just as a reference, there are more churches in the USA than there are convenience stores (146,341), fast food restaurants (160,000), and hotels/motels (46,295, not counting casino hotels) combined (352,636 total). All we need is ONE family from each church to adopt, and the foster system is back to zero for the coming year.Over fifty thousand churches could shirk their responsibility and we'd still get the job done. In reality, most churches have turned their back on our youth.
Before you jump down my throat in the comments, I realize that Christians adopt.  But the sheer numbers show that not enough do. And why?
They want a baby.
They think adopting outside the US is doing 'proper' mission work.
They don't have room for more than one.
They' 'can't handle' a screwed up foster kid.
They want cute.
They want WHITE.
The list goes on, but these are some major ones the adoption system sees every day.
What are your reasons for not following God's plan? You already have a child? I'd like to introduce you to this cool invention called bunk beds. You're an empty nester? I'd like for you to see the miles of 18-year-old children that are aging out of the system. Leaving foster homes with no transition point to go into the real world. These kids step directly from foster homes to homelessness. And you have 2 empty guest rooms and bed that's never used. Why not take all that knowledge you've gained raising your own children, and impart some to one of these young men or women who have never known a loving parent?
Is adoption for everyone? No. Of course not. But when you decide to live the way you were told to, you will not believe the change that will take place in your life. Suddenly, you find room. Not just in your home, but in your heart.
So you want to adopt, but you can't afford it? Well, I'm here to say, that argument doesn't hold water either. We payed very little out-of-pocket when we adopted my son and daughter. We relied on Bethany Christian Services, who are supported by faithful members of the Church, all across this nation. They helped, not only financially, but also helped bridge the divide between us and the social service system. Without them, and Christians following the commandment to help AND support, our family would not exist.
So you're still not swayed. You have the life you want and that's good enough for you. I get it. I lived it for sixteen years. For at least ten of those years, I lived in a house with an empty bedroom. It had heat and air conditioning. Food was in the fridge. Two adults lived there, completely able to give time and love to a child. I'm ashamed it took me as long as it did to answer that call.
We're not all going to open our homes. At a minimum we should financially support people who adopt, because there are many children who do not have the life they want, and that's just not good enough for them.
Now I need to turn my attention back to my daughter. I imagine being chased by a toddler with a weapon and the throwing arm of Pedro Martinez wasn't in her grand plans. I know it wasn't in mine. It's funny how one phone call can change your entire world. Here's a few calls from our life:
Me: "Honey, I think we should adopt." Wife: "Don't joke around if you're not serious."
Bethany Christian Services: "We have a placement. You're getting a son and daughter."
Wife: "You're never gonna believe…" Me: "You're pregnant." Wife: "How did you know?"
Someones calling you right now. Put aside those things you think are so important. There's someone waiting for you. Yearning for your touch. Answer the call. You won't regret it.
Christian Lee
Christian has had many roles in life. He's been a minister's son, a poor student, a computer geek, a bible college drop out, a corporate suit, a traveling comedian, and a failure at much he's tried. But he counts 2 huge successes in his life. He is husband to a wonderful wife, and father of 2 exceptional kids… and a third that has yet to be determined. He draws a web comic about their life at ForeverFamilyComic.com. Having just missed Aaron in college by a few years, they connected online, finding they had a similar sense of humor [read: DARK] and decided to launch PlaidDadBlog.
Comments
comments