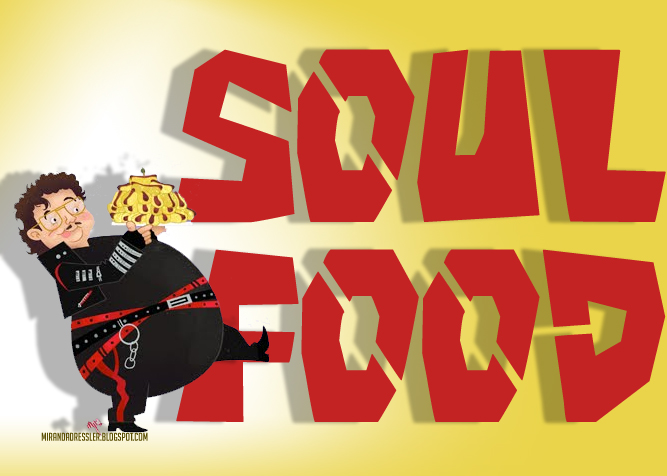 My belly is a monument to myself.  I built it bite by tasty bite. I used pizza, burgers, and fried chicken for brick and gravy for mortar.  Every day, when I step out of the shower and catch a glimpse of this memorial to ribs and cheese fries, I don't know whether to laugh or scream in terror.
I've been overweight for seventeen years; nearly half my life I haven't been able to stand up straight, glance down, and see my toes.  
I don't know whether to laugh or scream in terror.

I've been in my third trimester for over a decade.  When people ask me, "Whatcha up to?" my common response is, "Oh, 6'2″, 260."  Recently, the latter number has crept up to 268.
I'm a big boy.
I'm not normally an emotional eater.  I rarely turn to food for comfort.  I don't self medicate with food.  I simply like to eat.  Too much.
For me, Fatoberfest isn't primarily about losing weight or lowering my 5k times (although accomplishing those things would be nice).  My cholesterol is great, my blood pressure is normal, and my resting heart rate is good.  I'm a healthy chubby.  Fatoberfest, for me, is about idolatry.  It's about gluttony.  This is a spiritual issue for me.  It's time, past time, for change.
Here's my plan:
Run 12-15 miles a week.  I've been running for a little over three years.  I'm not, however, consistent.  My goal is to increase my miles as I train for two upcoming 5k's.  I've never broken the thirty minute mark before.  That will change.
Reduce my portions.  No more second helpings.  No more cleaning up the kids' plates for them.  This is where my self-control is challenged most.  And I have no plans on changing what I eat.  Yes, I know that weight loss is roughly seventy percent nutrition and thirty percent exercise.  Yes, I know that I could eat better.  But I've seen too many people eat what makes them miserable, all in an effort to lose weight, only to go back to eating what they like and gaining everything back.  So no salad for me.  I'll eat what I want, but in moderation.
Less soda, more water.  I love soda.  Like, if I wasn't married and soda was a pretty girl I'd marry it.  There's so much sugar in soda.  It's a miracle our pancreases haven't exploded.  An occasional soda isn't going to kill you, but drinking it like they'll never brew another drop?  Yeah, I may need to go to rehab.
File for divorce from McDonalds.  When you're on a first name basis with the drive through guy, it's time for an intervention.
Add some other form of exercise.  This will be the most difficult part.  Except for running, I hate exercise.  It bores me.  I quickly lose motivation.
My doctor has told me that he would love to see me at 220 lbs.  That means I've got around fifty pounds to drop.  That will take me at least a year, if I do it properly.  My first goal is to get into the 250s, which I haven't seen in over a year.  But more importantly, I will strengthen my faith and put food in it's proper place–as something to be enjoyed, not worshiped.
As Christian said in Monday's post, we'd love for some plaid dads and moms to join us in the Fatoberfestivities.  Please email us at plaiddadblog@gmail.com for more info.
Aaron Saufley
Aaron Saufley is a husband and dad who happens to moonlight as a hospice chaplain and preacher. He thinks Netflix is the greatest human invention next to pizza. He loves hanging out with his family, and when he has the time he also enjoys writing, a good cigar, craft root beer, smoking a mean rack of baby backs, movies, and trying not to die while running. Follow Aaron on twitter.
Comments
comments