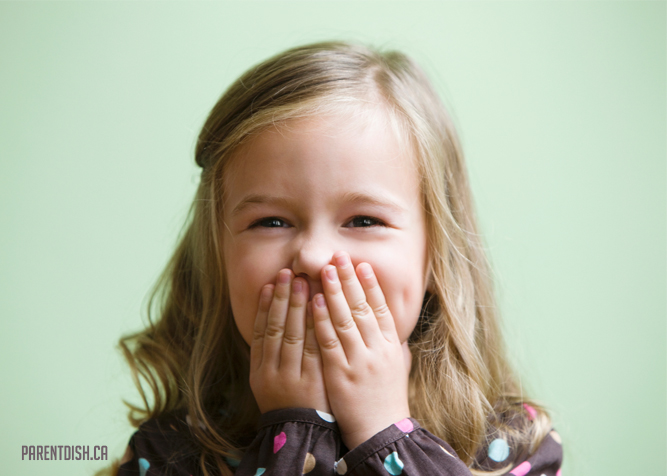 "My g____d_____ tooth hurts."
My wife and I were floored. Our little girl could now make a pirate blush. Where did our precious daughter learn such salty language? Turns out she heard it from some punk at school.
Kids are like parrots with photographic memories. They remember everything they hear, and then they repeat it. At the most inopportune times. Weddings. Funerals. Sunday School. Fortunately, our little princess spewed her vileness in the privacy of our mommy van.
As much as we try to protect innocent ears from sailor talk, it's inevitable that they'll hear it. Another child. A television show. You when you crush your thumb with a hammer. They will hear it. And then they'll repeat it.
Each of our three daughters are (unfortunately) veteran cussers. In every instance, we convinced ourselves that someone overheard and called Child Protective Services. Fortunately, we were just paranoid.
So how have we dealt with our children's verbal pollution?
First, we wiped the shock off our faces. We picked our jaws up off the floor, composed ourselves, and then had a talk with our angels.
Second, we got down on their level. It's not easy for a 6'2″, 260 lb man to kneel down and look his toddler in the eye, but it helps with communicating to a kid about their R-rated conversation.
Third, we corrected gracefully. This isn't time to raise your voice or lose your mind. This is a teachable moment–a chance to tell your child in age-appropriate language why their choice of words wasn't the best. It's also a time to admit our choice of words isn't always perfect, and share a nugget about what Jesus expects from our speech.
Fourth, we (try to) practice what we preach. Our children learn conversation from us. We cannot hold them to a standard we aren't willing to meet. Every interaction is a chance to sprinkle our speech with love and grace.
Fifth, seek forgiveness. There will be times when we blow it with our kids. We'll drop a verbal stink bomb. We'll speak out of anger. We'll gossip. We may even lie. When we mess it up (and we will), we can demonstrate humility and repentance to our little rugrats.
Every night I pray this with my girls: help us to be like Jesus in what we think, what we say, and what we do. I try to practice what I pray. Sometimes I fail. Sometimes I fail miserably. You will, too. And your kids will hear it and repeat it. It's not the end of the world. It is a chance to model grace, humility, forgiveness, and love.
Now, if I could only keep my thumb out of my hammer's way.
Aaron Saufley
Aaron Saufley is a husband and dad who happens to moonlight as a hospice chaplain and preacher. He thinks Netflix is the greatest human invention next to pizza. He loves hanging out with his family, and when he has the time he also enjoys writing, a good cigar, craft root beer, smoking a mean rack of baby backs, movies, and trying not to die while running. Follow Aaron on twitter.
Comments
comments