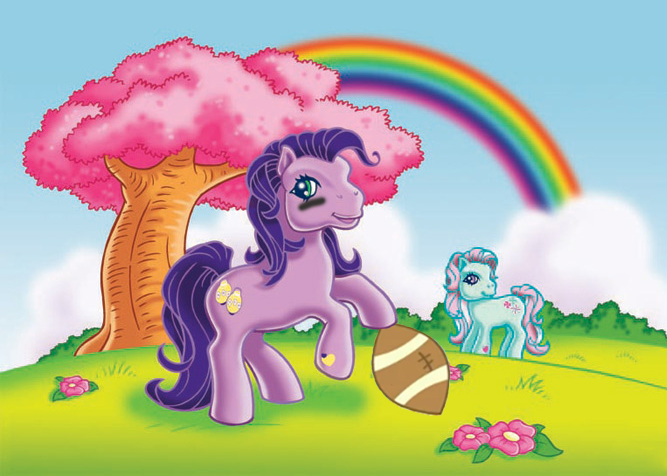 I grew up in a non-sports family.  My dad wasn't a sports fan.  Every Sunday during football season we came home from church. We ate dinner-lunch.  My father would retire to the living room, plop down in his recliner, and snooze until it was time to eat dinner-supper.  Then we'd head back to church.
I discovered the awesomeness that is football on my own.
No stories of the great gridiron heroes of yesteryear.
No explaining the difference between a linebacker and a corner.
No football jerseys or game food.
No triumphant bellowing after a touchdown.
I discovered the awesomeness that is football on my own.  I prefer the pro game over the college version.  I rooted for the Monsters of the Midway.  I grew up on Ditka, McMahon, and Payton.  I became a student of the game's history.  I dreamed of playing for George Halas.  I wished I could have witnessed Sid Luckman chuck seven touchdowns.  I imagined seeing Walter Payton break the all-time rushing record.
I looked forward to Sunday afternoons.  After dinner-lunch, I ran down to the basement, turned on the TV, and watched John Madden and Pat Summerall call the games.  Later on, I started watching the first half of Monday Night Football (it was a school night).  Super Bowl Sunday was the greatest day of the year (even if we had to miss the second quarter to go to church).
After I went to college and got married, I still loved football.  I'd catch most of the games, unless my wife wanted to go somewhere.  Did I get to watch every game?  No.  But I still got my fix.
And then we had daughters.  Three of them.  None of whom like sports.  Which means none of them like football. Four ladies, one TV.   "My Little Pony and the Magic Whatever" now took precedence over football.  My football consumption dwindled.
And I'm fine with that.  Sacrilege, I know.  You should be OK with it, too.
Here's how I've learned to cope with less football in a house full of ladies that dislike the game:
Watch one game.  Between college and the NFL, a man can watch around nine games each weekend. Fellas, do we really need that much football?  No.  We don't.  Pick one game and watch it.  When the game you're watching features your team, even better.  In my house, my girls know if the Bears are playing, Dad is going to watch that game and no more.  So pick one game, watch it, and spend the rest of the time bonding with your kids instead of getting fatter on the couch.
Watch a game with your kids.  You dads with sons, you're already doing this.  Congrats.  You guys with daughters, welcome to my world.  My middle daughter will watch a Bears game with me.  Well, the first half of the first quarter of a Bears game.  Yeah, her attention span wanes quickly, but it's a chance to share my knowledge and love of the game with her while spending time with her.
Watch something else with your kids.  Football is on for six months of each year.  Heaven forbid we miss a week.  If my girls want to watch "Barbie and the Magic Whatever," then that's what I'm watching.  Doing this with your kids shows you are taking an interest in their interests.
Better yet, turn off the TV.  Go for a walk.  Play in the yard.  Challenge them to a board game.  Play hide and seek (one of our favorites).  Get out from in front of the TV, burn some calories, and hang out with your kids.
And stop playing fantasy football.  Yeah, I crossed that line.  I went there.  I get it – it's the faux game of kings, our one chance

to pretend like we're Ditka.  And it's also an addiction that pulls our attention away from our kids outside of game time.  I participated one year in a fantasy football league.  It was a league requiring minimal maintainence, and it still consumed me.  I haven't played since, and I don't plan to in the future.  Nothing tells your family they rank low on your priority list like staring at a phone during dinner pretending to make pseudo-important decisions on what imaginary players to start on a fake team.  It's a fantasy.  Get back to reality.
Your kids will know what's truly important to you by how much time you spend yelling at a TV on Sunday afternoon.
Football is the great American game (sorry baseball fans, your game is boring and slow).  It has entertained millions for over a century.  But just like too many nachos are bad for your heart, too much football can be bad for your family relationships
Face it:  Peyton Manning doesn't really care if you watch him toss four touchdowns against the Raiders.  But your kids will know what's truly important to you by how much time you spend yelling at a TV on Sunday afternoon.
Aaron Saufley
Aaron Saufley is a husband and dad who happens to moonlight as a hospice chaplain and preacher. He thinks Netflix is the greatest human invention next to pizza. He loves hanging out with his family, and when he has the time he also enjoys writing, a good cigar, craft root beer, smoking a mean rack of baby backs, movies, and trying not to die while running. Follow Aaron on twitter.
Comments
comments